Concert Tickets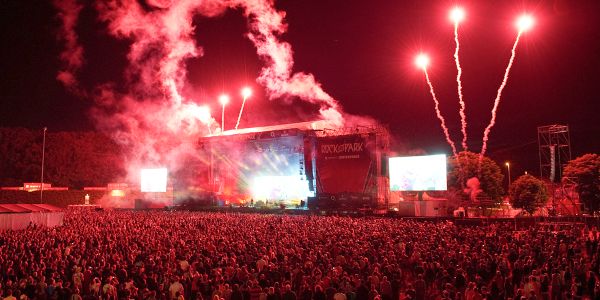 Published on June 30th, 2014 | by Fulham84
0
Kasabian – UK Tour 2014
30.06.2014 – It's only been a couple days since Glastonbury and Kasabian already announced their new UK Tour for 2014. The Leicester band will perform 16 concerts across the UK including 5 nights at London's O2 Brixton Academy.
The Kasabian UK Tour will start on November 19th at the Glasgow SSE Hydro, followed by dates in Leeds, Birmingham, Cardiff, London, Dublin and Belfast among others. The band scheduled 5 dates at the O2 Brixton Academy in London and announced the last concert to be a late night gig. The Maccabees will support Kasabian throughout the entire tour and tickets will go on pre-sale on Wednesday, July 2nd.
2014 belongs to Kasabian. They released their fourth consecutive number 1 album "48:13" in April 2014 and performed an incredible homecoming gig in Victoria Park, Leicester in front of 60,000 people. That performance was only topped by there performance at Glastonbury Festival on June 29th where they brought the house down with their hit singles "Fire", "Underdog" and a cover of Gnarls Barkley's "Crazy"."
The first lead single of the new album was "Eez-eh" which will be followed by "Bumblebee" which is due to be released on August 4th.
Tickets for the incredible Kasabian UK tour are available via the O2 Priority Moments pre-sale on Wednesday at 9:30am. The official on-sale is Friday, July 4th at 9:30am. Tickets start at £42.50. Kasabian tickets for the London gigs start at £29.50. Get your Kasabian tickets now and experience one of the best live bands in the world.
Kasabian – Anniversary Concert
29.11.2013. Kasabian announced a huge 10th anniversary homecoming gig on June 21st at the Victoria Park in Leicester. Kasabian tickets are on-sale now.
Kasabian announced their 10th anniversary gig and will headline at Victoria Park in Leicester on June 21st in front of 35,000 fans. The gig will mark the 10 year anniversary since releasing their debut album "Kasabian" in 1994.
Tom Meighan, Sergio Pizzorno, Chris Edwards and Ian Matthews founded the band in 1997 and released their first album in 1994. The debut album was followed up with "Empire" (2006), "West Ryder Pauper Lunatic Asylum" (2009) and "Velociraptor!" (2011). The band has been locked away and is currently working on the new, highly anticipated fifth album.
There are rumours that Kasabian might also headline Glastonbury 2014. However, the 10th anniversary gig in Leicester is the only one confirmed and it will be a great one. Serge Pizzorno is very excited about the gig and said. "It's going to be the 10-year anniversary of the first album, so it feels right. It feels like we've been building up to this since the start. We're so excited. Hopefully the whole city will come alive."
Tickets for the Kasabian 10th anniversary homecoming gig are available now. Get your Kasabian tickets now.
Kasabian Tickets
All Kasabian tickets are standing tickets and are available for £43.45. Local residents tickets with postcode's commencing LE1 7 and LE2 1 are available on a first come first served basis until December 6.