Concert Tickets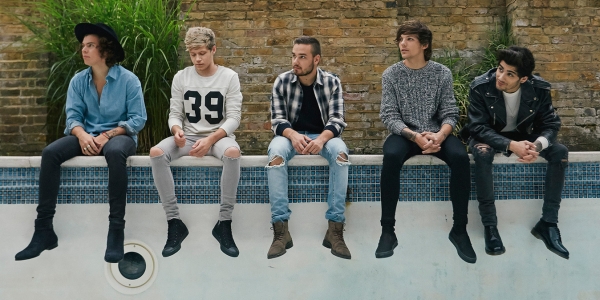 Published on December 1st, 2014 | by Fulham84
0
One Direction Tickets – On The Road Again Tour 2015
01.12.2014 – One Direction announced 18 dates for their 'On The Road Again' UK Tour. One Direction tickets will go on-sale on Saturday, December 6 at 9am. Get your One Direction tickets now.
The worlds biggest pop band returns home in 2015 with their 'On The Road Again' UK Tour. The UK leg includes 18 dates and will kickoff on June 6 at the Millennium Stadium in Cardiff followed by concerts in London (September 24, 25, 26) Manchester (October 3, 4), Glasgow, Birmingham, Dublin, Belfast, Newcastle and Sheffield. One Direction tickets are available on December 6.
Niall Horan, Harry Styles, Liam Payne, Zayn Malik and Louis Tomlinson come to promote their fourth studio album 'Four' which features hit singles such as 'Steal My Girl' and 'Night Changes'. The album was released on Novemebr17th and went straight to number one in the US Billboard charts.
Get your One Direction tickets early! In May, the chart toppers performed at the Etihad Stadium and fans camped out 48 hours before the gig in hopes of tickets. Secure your One Direction tickets now.
One Direction Tickets
Tickets go on sale on Saturday, December 6 at 9am. One Direction tickets range from £44.24 to £168. Secure your One Direction tickets for the On The Road Again tour 2015 early.
One Direction – Where We Are Tour 2014
24.09.2013 One Direction has added new dates to their European Tour due to the huge demand. In the UK, 1D added dates in Manchester, London and Dublin as part of their "Where We Are Tour."
The British boy band will now play a total of eight concerts in Sunderland, Manchester, Edinburgh and London and additional three concerts at the Croke Park Stadium in Dublin. The UK leg will kick off on May 28th 2014 at the Stadium of Light in Sunderland.
One Direction had an unbelievable year and released their film, "One Direction: This Is Us" which topped the box offices worldwide. Additionally the third studio album is set to be release in November of this year titled "Midnight Memories".
The second studio album "Take Me Home" and its second single "Little Things" both reached number one in the UK charts and topped the Billboard 200 in the US and impressively in another 34 countries. Both albums from the One Direction boys became the third and fourth best-selling albums of 2012, respectively.
One Direction Tickets
Please note that tickets are limited to 8 tickets per person and per card. For Sunderland, Manchester and Edinburgh, pitch standing tickets are available from £45.00 and reserved seating is available starting from £42.50 up to £65.00 depending on the level of seating.
For Wembley Stadium, pitch standing tickets are available from £47.50 and reserved seating is available starting from £42.50 up to £69.50 depending on the level of seating.
VIP packages are also available for all concerts. The Early Bird Package is available for £149. The Best Seat in the House Package reserves a seat in a block with great views of both the main stage and B stage of the concert (Level 1) seating. Tickets are available starting from £149. The Gold package includes drinks and food and starts from £215 without alcohol and £239 with alcohol.
The Diamond Hospitality Package at Wembley Stadium starts at to £230 includes a reserved premium ticket in the Bobby Moore Club seating blocks, Level 1. The ticket also provides access to the hospitality lounge throughout the concert and includes complimentary party food including hot dog & ice cream stations from opening for 3 hours. Post show party with dance floor & music for 1 hour.
One Direction – Where We Are Tour
23.05.2013 One Direction announced 13 dates for there "Where We Are Tour" 2014 which will see them headline 4 gigs in the UK including Wembley Stadium. Other dates will be added soon.
One Direction announced the first 13 dates for there first ever Stadium World Tour in 2014 and promised that more dates will be added. The Tour will see the boyband tour the UK in May and June 2014 with stops in Sunderland, Manchester, Edinburgh and London. The band will be the first boyband to fill the 90,000 Wembley Stadium.
The band announced the tour at a press conference at Wembley and Niall Horan said: "We have only been a band for three years and we're already doing stadiums – including Wembley." Harry Styles added: "It's important the fans and everyone who comes to see the show know it's going to be much bigger and [we will be playing] new songs. A completely different tour."
The tour, however, will start in South America with the opening gigs in Bogota, Colombia on April 25th before heading to Peru, Paraguay, Chile, Argentina, Uruguay, Brazil and finally the UK. The Tour in named after the band's third album "Take Me Home" which sold over 1.7 million copies.
Tickets for the tour will go on-sale in May 25th 2013.
One Direction – 2013
British boy band were formed in 2010 and gained instant fame through the popular television show the X Factor. Despite only finishing third in the competition One Direction or 1D as they are known to their fans were quickly signed up by Simon Cowell's record label Syco Records. 1D released their debut album 'Up All Night' in 2011 in the UK which included the smash hit single 'What Makes You Beautiful', which turned 1D into world record holders for debuting at number one on the US Billboard 200 chart. The album reached number 2 in the UK chart and Number 1 in the US, clocking up over 3 million sales worldwide. The Boy Band has five members they are:
Niall Horan
Zayn Malik
Liam Payne
Harry Styles
Louis Tomlinson
1D's new single was released on the 28th September and is entitled 'Live while we're young'. The New album 'Take me Home' is scheduled for release on 12th November. Some of the songs on the new album will be written by none other than Ed Sheeran who is working with 1D on some new material. Ed is known for songs like 'you need me' and 'Lego house' and is helping to give the band a slightly different sound. When 1D where asked to comment about what their new album sounded like said, they wanted it to sound 'rockier' with the use of guitar more.
The 'One Direction World Tour 2013' starts off here in the UK and Ireland in February 2013, and will run until April 2013 at various venues until it spreads world-wide. The boys have previously been on tour with X Factor and also there first independent tour 'Up All Night' which saw them traveling round the UK and Performing for around 500,000 people. The next tour will be bigger and better with many more dates available across the world including several in London, Manchester, Belfast and Dublin. If you have a teenage daughter, this is the event to take her to; loud songs, screaming girls and a good concert with good music.
With over 12 million records sold worldwide in total tickets are going to sell out fast because they have so many fans, here are a selection of dates and tickets that 1D have released in the UK and Ireland.