Concert Tickets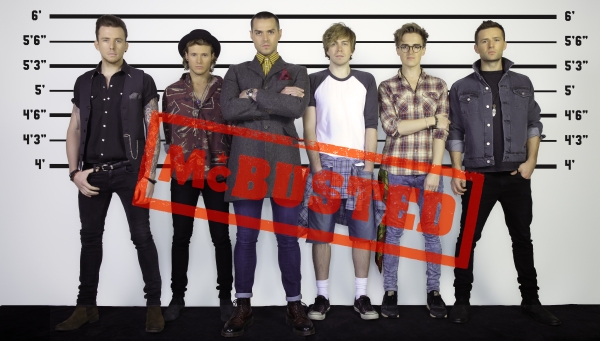 Published on November 2nd, 2014 | by Fulham84
0
McBusted Tickets – UK Tour 2015
05.11.2014 – McBusted finished a huge year and just announced their return to the stage for early 2015. The Supergroup will play a huge tour in 2015 with 16 dates in the UK. McBusted tickets are available on Friday, November 7th at 9am.
The 2015 McBusted Tour will see the 6-man group play 16 concerts from April to March throughout the UK. The tour will kickoff in Glasgow on March 12th, followed by gigs in Newcastle, Leeds, Manchester, Birmingham and many more.
The band announced the tour on Twitter. They tweeted: "It's possibly the worst kept secret in entertainment, but we are so stoked to announce the #McBusted2015Tour!!"
The 2014 McBusted tour sold out within an hour. Over 350,000 fans saw McBusted live across 35 venues throughout the UK topped by a headline performance at Hyde Park in front of 60,000 fans.
McBusted tickets
McBusted tickets will go on-sale on Friday, November 7th at 9am. Tickets cost £37.50 & £41.50. However, McBusted fans need to hurry as demand will be huge. Get your McBusted tickets now.
McBusted – UK Tour 2014
15. 11.2013 – McFly are joining force with Busted and will play 11 concerts in April and May 2014 as part of the McBusted UK Tour 2014.
McFly recently celebrated their 10th anniversary at the Royal Albert Hall where Busted was the special guest surprise. However, on November 11th, both bands announced the McBusted world tour in 2014. The UK leg will start on April 18th at the Hydro in Glasgow and followed by gigs in Liverpool, Bournemouth, London, Newcastle, Nottingham, Leeds, Birmingham, Sheffield, Cardiff and Manchester.
The supergroup will play all the fans favourites of both bands – McFly and Busted. Popular songs such as "Year 3000", "All About You" and "What I Go To School For" are sure to be included on the set lists. However, McFly assured fans that it will be a fun break and that the band will return to solo projects in the near future.
The response for the project was astonishing. Fans were delighted and one labelled it as "potentially the best thing I have ever seen, ever, during my entire existence" on Twitter. The new band created a website and already has over 140,000 Twitter followers.
Only Busted's former frontman Charlie Simpson will not be joining the group, but wished them all the best. The first official gig of McBusted will be on BBC's Children in Need this Friday.
McBusted tickets are available now. Make sure you are early as demand for tickets is huge. The pre-sale sold out within minutes.
McBusted Tickets
The pre-sale for the McBusted Tour is from Thursday, November 14th to Friday, November 15th at 8am. The on-sale for the general public is on Friday, November 15th at 9am.
Tickets are available from £41.25 to £49.25. VIP Tickets are also available. McBusted tickets are limited to 6 tickets per person.
McFly – Tour 2013
07.12.2012 – McFly announced the "Best of McFly Tour" and will be touring the UK with 18 shows in April and March 2013.
McFly is without a doubt one of the most successful UK pop groups of the last decade. The band consist consists of Tom Fletcher, Danny Jones, Dougie Poynter and Harry Judd and came to fame in 2004. Since, the band has sold over 10 million records worldwide leased 5 stadio albums. The biggest success was certainly the seven UK No.1 singles, five top 10 albums and numerous sell out tours. However, the McFly also won the Brit Award in 2005 for Best British Pop Act. There debut album "Room on the 3rd Floor" debuted at number 1 in the UK and certified as double platinum. However, Harry and Dougie are also known from there appearances on "Strictly Come Dancing" and "I'm A Celebrity Get Me Out Of Here."
Their 2012 Tour was a total sell out and included 26 concerts across the UK. In September they performed two shows at New York's Gramercy Theatre and LA's ROXY, both of which sold out in minutes. On November 26th, McFly released their latest album "Memory Lane" which is a collection of the McFly's greatest hits including hits such as 'Five Colours In Her Hair' , 'Obviously' and 'All About You.'
However, McFly just announced their "Best of McFly Tour" 2013 which will start on April 19th in Swindon and finish at the Wembley Arena on Saturday 18th May. McFly tickets go on general sale at 9am on Saturday 8th December 2012. Tickets are bound to go just as quickly for 'The Best of McFly' Tour, so don't miss your chance.