Concert Tickets Published on November 22nd, 2012 | by Fulham84
0
Girls Aloud – 2013 Tour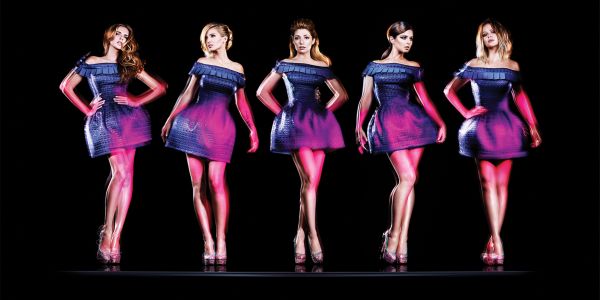 Girls aloud started its life back in 2002, when 5 solo artists auditioned on ITV's Popstars: The Rivals. This competition brought the girls together to form a band and to compete for the Christmas number 1 single against a boyband in 2002. Girls Aloud were successful in this battle with 'Sound of the underground' which was number 1 for 4 consecutive weeks, and they have hit after hit ever since. Girls Aloud consists of Cheryl Cole, Nadine Coyle, Sarah Harding, Nicola Roberts and Kimberley Walsh.
The girls success has grown over the years, with achieving a string of 20 consecutive UK top ten singles (including four number ones), 2 UK number one albums, and having 5 nominations for Brit Awards, winning 'Best Single' in 2009 for 'the promise'. With the release of 'Ten' to celebrate 10 years together, the girls set out on a reunion tour in February and March 2013.
Starting off in Cheryl's home town of Newcastle for 3 nights starting on the 21st, then stopping at Sheffield, Birmingham, 3 nights at London's 02, Manchester, Glasgow, Liverpool, Belfast, Nottingham and finishing the tour in Dublin on the 16th. Having not released an album since 2008, their fifth studio album, Out of Control. The album debuted at #1 on the UK Albums Chart, selling over 85,000 copies, then the split, the long anticipated return of Girls Aloud has been on fans thoughts ever since. With the Girls all having tried different things and solo careers, they are coming back together to celebrate the start of it all with their fans. Their latest single – 'Something New' has a sound of a combination of everything good from Girls Aloud, but also adding a fresh twist, which couldn't be more appropriate for the reunion sound. The 22nd single for the girls is also in aid of Children in Need, and is released on November 18th, followed by the album 'Ten' on the 26th November.
The tour is expected to be a massive success, with sell-out crowds, suitable for all ages, is a must for all fans, as this maybe the last time the 5 perform together, showcasing both old classics such as 'Sound of the underground', 'The Promise', 'I'll stand by you' 'Jump' and also introducing a few new tracks 'Something new' and 'Beautiful 'Cause You Love Me.