Concert Tickets Published on May 31st, 2013 | by Fulham84
0
Billy Joel – UK Tour 2013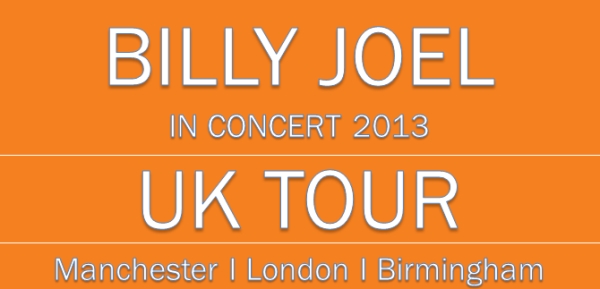 Billy Joel will return to the UK after 7 years and perform three very special gigs in Manchester, London and Birmingham.
The award winning pianist announced that he will be visiting the UK for three gigs in October and November with a very special show at the Hammersmith Apollo on November 5th. The Apollo will be the first time Joel performed in a intimate venue since 1977.
Billy Joel is a music legend. He won six Grammy's and was nominated 23 times. He was introduced to the songwriters Hall of Fame and the Rock and Roll Hall of Fame and he sold over 150 million copies of his albums.
The American, however, started his career in New York, where he decided to pursue a music career after seeing the Beatles. His breakthrough came in 1971 when he signed his first record deal with Artie Ripp's Family Productions and released his first album "Cold Spring Harbor". He wrote his signature song "Piano Man" at a six month LA gig before he moved there for good and signed a deal with Columbia Records and Herb Gordon.
The last time the boating lover performed in the UK was in 2006 as part of his European Tour. He also performed a free gig in Rome with Bryan Adams. The event was visited by over 500.000 people.
Billy Joel's first UK Tour in seven years will be a special treat for his European fans. His greatest hits such as "Piano Man", "She's Got a Way" and "Everybody Loves You Now" will certainly be part of his UK tour. Get your tickets now – available from May 31st 2013.