Concert Tickets Published on December 17th, 2013 | by Fulham84
0
Beyoncé – The Mrs. Carter World Tour 2014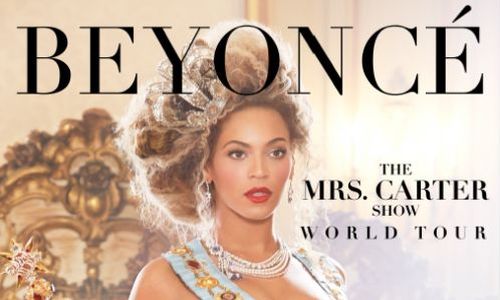 Photo: SJM
18.12.2013. Beyoncé has announced 16 additional UK dates in early 2014 and will return to the UK with her Mrs Carter world tour. Beyoncé tickets for the 2014 dates are available now.
Beyoncé wowed her UK fans in April when she started her Mrs Carter world tour with 11 dates in the UK and played a series of music festivals. Now, the superstar announced the return of the Mrs Carter world tour.
Beyoncé will return to the UK for 16 additional dates and will kick off the UK leg at the Hydro in Glasgow on February 20th. The tour will move on to Birmingham, Manchester and finish off with 6 dates at the O2 Arena in London.
Beyoncé Knowles surprised her fans in December 2013 when she unexpectedly released her fifth self-titled studio album at the iTunes Store. The new album was released on December 13th and includes 14 singles such as "Drunk in Love", "Blow", "Rocket" and "XO." Collaborations with Jay Z, Justin Timberlake, Timbaland and Pharrell Williams made this album very special. The album is referred as a being very visual as each track is accompanied by a short film.
Beyoncé tickets are available now. Fans are advised to buy their tickets early since demand for the American superstar is as usually huge. However, Beyoncé will almost certainly treat them to a very special gig with new material.
Beyoncé – The Mrs. Carter Show 2013
03.04.2013. U.S. star Beyoncé will head to the UK this April as part of the "The Mrs. Carter Show" World Tour. Following her amazing Super Bowl half-time show, Beyoncé announced her "Mrs. Carter Show" World Tour and will stop in the UK for 11 concerts.
Beyoncé was born and raised in Houston, Texas where she learned to sing and dance at the performing arts school. The breakthrough came in the late 1990s as the lead singer of Destiny's Child. The girl band became one of the world's best-selling groups of all time with over 50 million sales. During the time, they made 4 studio albums and major worldwide hit singles including the iconic song "Survivor" released in 2001.
Beyoncé solo career started in 2003, when she released her first solo album "Dangerously in Love." The album was a great success, sold over 11 million copies worldwide and won multiple platinum awards in the U.S., UK and Australia. The singer also gained her first solo #1 single with "Crazy in Love" featuring future husband Jay-Z who she married in 2008 and had her first child Blue Ivy with in 2012.
Today, Beyoncé is one of the best-selling solo female artists in the world with over 75 million record sales clocked up worldwide. Beyoncé has become a household name over the years. Beyoncé is known not just for her singing, but for her amazing, breath taking performances.
The singers work has earned her numerous awards and accolades, including 17 Grammy Awards, 12 MTV Video Music Awards and a star on the Hollywood Walk of Fame (with Destiny's Child)
The new album will be her fifth to date and is due for release in April 2013, the new content from the album will be sure to be played on the world tour. Here are the dates of the Mrs. Carter World Tour to see this amazing woman perform songs old and new in front of sell-out crowds in the UK.